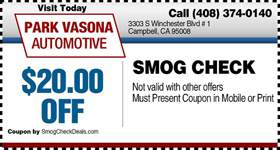 Park Vasona Automotive
3303 S. Winchester Blvd. Suite #1.
Campbell, Ca. 95008
Call: (408)-374-0140.


STAR Station
Smog Check
We Smog Test all Cars, SUV's, Trucks, Vans, RV's
Test only smog check
Out of State smog test
Diesel smog check
Title transfer smog test
Vehicle registration smog test
Gross Polluter certification
STAR Certification
Park Vasona Automotive has been serving our customers in the Campbell – Los Gatos area since the 1960′s.
Our current location is at 3303 S. Winchester Blvd. Suite #1. We are grateful that our friends, neighbors, long time customers, and people we grew up with remember us and visit us for all their automotive service and repair needs. We are skilled, efficient, and we've got the experience to take good care of you and your vehicle.