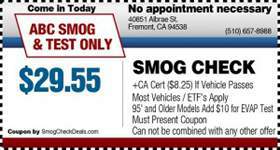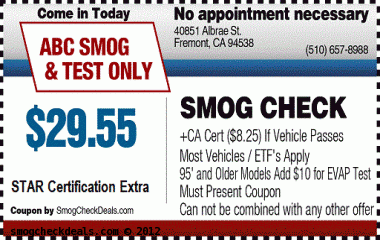 ABC Smog and Test Only is a family owned and operated business serving Fremont, CA and the surrounding communities The trust
we have built with our customers and neighboring repair facilities is something that we treasure and take seriously. Since we don't repair vehicles you don't have to worry about an unscrupulous technician failing your vehicle to make some unnecessary repairs. We want your vehicle to pass it's smog test.
With the changing rules and regulations from the state, the smog test can be a confusing experience. Our knowledgeable, friendly staff will answer any questions that you may have about the smog test. Customer satisfaction is #1 at ABC Smog and Test Only, and we will do all we can to ensure your experience here is a good one. Thank you for considering ABC Smog and Test.
Smog Check
smog Check
smog Check – Change of ownership
smog Check – Initial registration
smog Check – Out of state
smog Check – Test Only
smog Check – Pre-test
smog Check – Regular
Gross polluter certification
We can perform ANY smog test
We can smog test ANY vehicle Cars Trucks Vans RV's Diesels Motor-homes
We offer
Competitive pricing.
Large and clean waiting room.
Knowledgeable, professional and friendly staff.
Professional testing.
Fast, courteous service.